Unimus version 1.4.0 is being released today!
This version brings a role-based access control system, support for 5 new devices and the 'View' backup popup.
Major performance improvements when backing-up large configs, and a dose of bug fixes are also present.
Links at
https://unimus.net/download.html
have been updated with the newest version.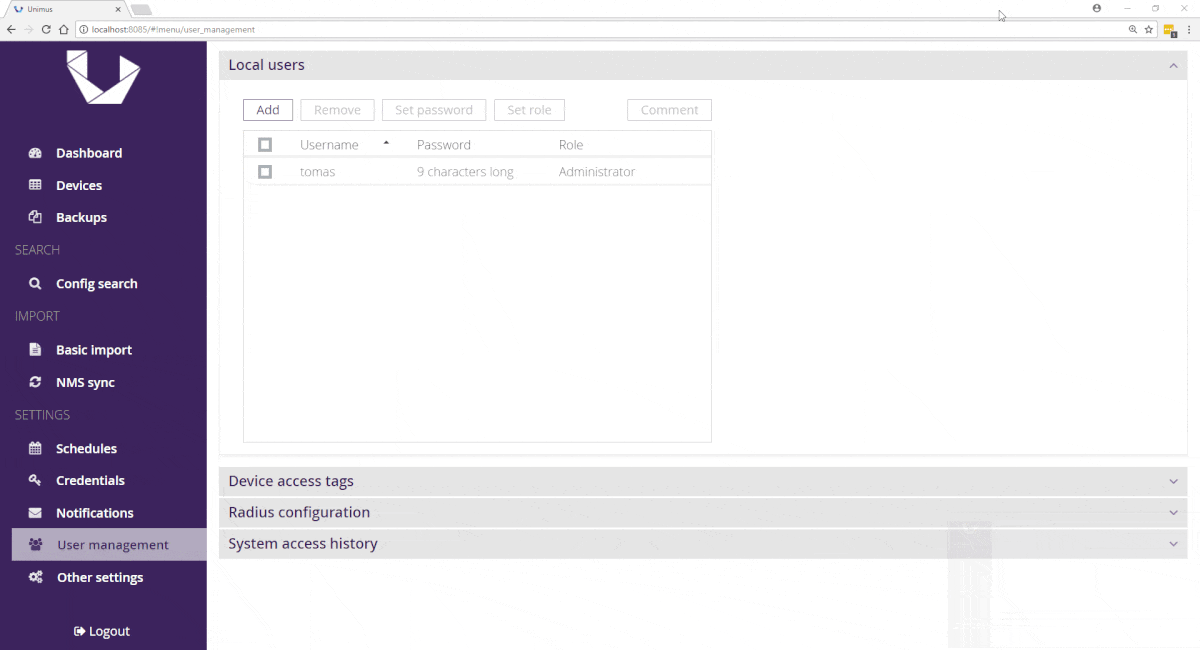 Direct upgrade from 1.x.x and 0.3.x is supported, simply deploy the new version of Unimus, and everything will work.
Direct upgrade from 0.2.x or 0.1.x is
not
supported, please
see this link
for more details.
Full changelog:
= Version 1.4.0 =

Features:

Backup retrieval performance massively increased when retrieving large backups

Improved Telnet detection

Improved UBNT device identification (will identify even if device returns wrong output)

Improved backups of UBNT devices

Improved Cisco WLC support (more version supported)

Added comments to user accounts table

Added a confirmation popup on device deletion

Added a 'View' button to 'Backups' - will show the selected backup

Added a role-based access privilege system

- each system user has a role (Administrator, Operator, Read-only, None)

- access to various parts of the application is limited according to users access role

- more information at

https://wiki.unimus.net/display/UNPUB/A ... rity+roles

Added 'Device access tags'

- can be used to additionally limit accounts to have access only to specified devices

- you can create 'Tags', and tag devices with the tags

- Accounts can have access limited to only devices with specific tags

(they will only see devices with the tags they have access to in 'Backups', 'Config search', etc.)

Added support for:

- Brocade / Ruckus ICX switches

- Cisco ASA FirePower

- Cisco ASA multi-context

- HP MSM Controller

- Siklu EtherHaul

Fixes:

Fixed notifications not being sent

Fixed ProCurve not being discovered over Telnet

Fixed FortiMail with very large config not backing-up

Fixed error message on device address change

More fixes for JunOS not discovering nor backing-up when user logged into BSD shell

Fixed ProCurve backup being empty in certain situations

Tickets closed by this release:

UN-190, UN-234, UN-246, UN-247, UN-248, UN-254, UN-255, UN-257, UN-258, UN-259, UN-261, UN-262, UN-263, UN-264

Known issues:

Special characters can be replaced by '?' under specific circumstances